Check for Breaking News Stories often. News, features, product reports, industry recalls, class-action law suits. Your best source of inside information and analysis.


When Michele Hutchinson strapped her three year old daughter, Dana, into her child safety seat one stormy afternoon to keep her safe ...


Mother Wired Magazine was awarded the Publishers' Gold Medal for its news-features style and innovative website design by Thomas Hobbs at WebPortal.Com.


Its a live-chat room.Topics are wide-ranging and of vital interest in the lives of mothers and their families. For Mothers Only!


Mother Wired has a support network program for you. Participate and share your experiences.


Get an early start on your baby's intellectual development, but take a close look at another important factor - you child's safety ...


Nancy, the new lifeguard was just hired four weeks into camp and tried to catch up to other waterfront staff in the tanning department.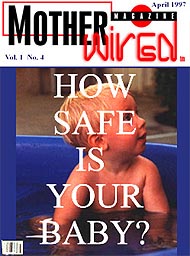 Thousands of kids will be injured this Summer unless steps are taken now to protect them from careless water accidents ...


Drown-proof your child to make sure there won't be a tragedy ...


During the hot summer season, few things are more inviting to a kid than a cool splash in a nearby pool. But in the seconds it takes to get wet, a child can drown or be seriously injured.


The National Safety Council's 1994 Accident Facts Report shows that drowning is the second leading cause of death for young people


The 'Blue Alert' is a new program designed to Save Children From Drowning. It is a powerful video message aimed at helping parents


The past issue Archives of Mother Wired are available online ...


Mother Wired has searched the Web for information on missing children, child support, safety issues and concerns.If you know of a good site please add it to our list by sending us e-mail.




Don't to forget to register as a founding subscriber to this important national magazine. The Editor requests comments.