An inspiring news story about a 12 year-old boy who helped the New York Yankees win the penant! Very much like the 1994 Disney film available at video stores. See cover below.


Mother Magazine Wired was awarded the Publishers' Gold Medal for its news-features style and innovative website design by Thomas Hobbs at WebPortal.Com.


Chat room for recreation and education. Topics are wide-ranging and of vital interest in the lives of mothers and their familes. For Mothers Only!


Check out this story about the dangerous defect in a certain Cabbage Patch doll by Mother Magazine Wired Editor, Laurie Kobliska, in the latest issue of the Daily Republican Newspaper!


Mother Wired has a support network program for you. Participate and share your experiences.

We're a featured site this month at California CyberMall, a hot shopping center guide to award winning stores on the World Wide Web.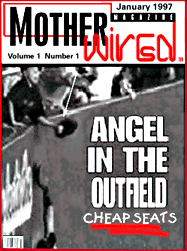 What will your house of the future be like? What Mommies Should Know and Do! With a recent advance in computer miniaturization the house of the future is already a possibility, even a necessity.


Every child must experience success in learning to cope with the outside world. It all begins with showing that mother accepts and loves the child and the child's efforts.


Read about the hidden bacteria in your meal that may cause food borne illness in your family. Bacteria will multiply to dangerous levels between 60 and 125 degrees.


Parents say that they still allow children to sleep in the same bed with them. Most child-care experts agree that shared sleep is a good experience for children under the age of four years.


Mother Wired has searched the Web for information on missing children, child support, safety issues and concerns. The hot links to Web Sites should be added to your favorite bookmarks. If you know of a good site please add it to our list by sending us e-mail.




The February issue of Mother Wired will feature a report of the annual reader's survey of attitudes toward education, the economy, parental rights, child support and political campaign issues.


Don't to forget to register as a founding subscriber to this important national magazine. The Editor requests comments.