March 1, 1997
The Book That Made The One Room School House!
By William Heartstone, Mother Wired Education Writer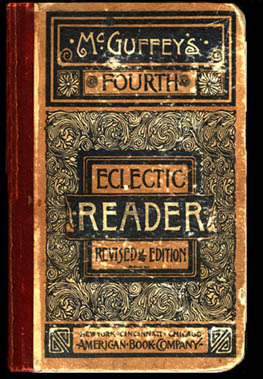 SACRAMENTO DESK - This is an original McGuffey's Fourth Eclectic Reader, Revised ed., published by the American Book Co, in 1879. This copy is in excellent condition and is worth $2,000 on the open rare book market. It was the miracle that made every one-room school house into a 'hall of learning'.
This was the first series adopted by American school boards everywhere. There were eight books in the series. Each book introduced stories and comprehension questions, each new book with harder words and more complex paragraphs.
To obtain your Eighth Grade Graduation Certificate, you had to be able to read efficiently with understanding all eight of these wonderful books. Pupils were not permitted to enter the nation's high schools until they had mastered all eight reading levels and could recite long passages from memory.
By today's diminished public school reading standards, fewer than 10% of California's high school graduates this Spring would be able to read and comprehend the text of the McGuffey's Fourth Eclectic Reader. What a loss to these young people and to the nation's economy.
COVER | SUBSCRIBE | COMMENT

Mother Wired is a copyright of Mother Wired Magazine 1994-1997.
Other trademarks property of their respective holders.