Check for Breaking News Stories often. News, features, product reports, industry recalls, class-action law suits. Your best source of inside information and analysis.


Not every Web site that targets females can claim such a select group of patrons, as the mutual fund company named Strong Funds. When it began advertising online, it bypassed the traditional Internet....


Mother Wire Magazine was awarded the Publishers' Gold Medal for its news-features style and innovative website design by Thomas Hobbs at WebPortal.Com.


Its a live-chat room.Topics are wide-ranging and of vital interest in the lives of mothers and their families. For Mothers Only!


Mother Wire has a support network program for you. Participate and share your experiences.


If you are interested in getting closer to Nature this week, try guided wildflower walks, nature talks, or other outdoor activities...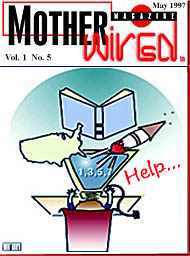 Can we control a child's emotions? Of course not. What we can do is use negative emotions as an opportunity to guide our children...


Instead of catching up with national events, I'm watching Sesame Street...


With the right motivation, kids can begin to see the fun in their education. The secret is motivation. Kids who are motivated want to succeed.

Why do children continue to misbehave after multiple time outs and punishment? Explaining what they did wrong and perhaps why they did it doesn't always work and parents begin to blame themselves...


Just as rocking your child to sleep and cuddling him comes natural to parents, feeling guilty about making right or wrong choices in child rearing do too.


The past issue Archives of Mother Wire are available online ...


Mother Wire has searched the Web for information on missing children, child support, safety issues and concerns.If you know of a good site please add it to our list by sending us e-mail.




Don't to forget to register as a founding subscriber to this important national magazine. The Editor requests comments.