Volume 3 Number 1



We're glad to see Mother's back!
Tell Mother a nice story about you.


Best sources
for Women's Health issues.


Great publications and music to
soothe you and your offspring.


Visit Women's Circle for live
chatter, if you are daring!


Mothers need a support network.
Been to a good yard sale lately?


Feel the motherly urge to contribute?
Send us your story submissions!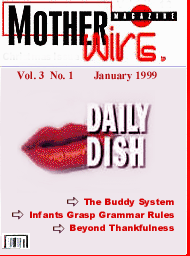 January 1999



Someone to excercise with?
You baby is learning grammar early.



Here's the best source for multicultural
names and etymology on the web.


Smart little kids who enter college!
Teaching thankfulness.


Having a baby the right way.
These new books can help you time out.


Pediatrician's claim forced toilet training
can cause lasting problems.


Past issue Archives of Mother Wire.
The best kind of learning motivation.


Web links for information on missing
children, safety issues and more.


Don't forget to subscribe to
Mother Wire's e-mail newsletter.


©1996-98 HTML Graphics
by WebPortal Inc.
All rights reserved.
Disclaimer.